Summer is the perfect time to invite friends and family over for backyard barbecues and outdoor gatherings, but it can also be quite hot. However, you don't have to let the heat keep you cooped up indoors! You can beat the sweltering temperatures with a DIY patio cover. With just a few materials and some creative ideas from my list of 13 cheap patio cover ideas, you'll soon have an inviting space that adds shade and value to your home—without breaking the bank. So if you are looking for a practical way to add style and function to your patio or other outside area this summer, read on!
1) Awning
Have you ever noticed the overhead coverings on storefronts and outdoor seating areas? These structures, called awnings, serve a dual purpose: they provide shade for customers and protect storefronts from damage caused by harsh weather. When properly designed and installed, awnings can also add visual interest to the exterior of a building.
Whether made from aluminum or canvas, these functional fixtures come in a variety of shapes and sizes to suit individual needs. Awnings can also be customized with graphics or logos to promote a business. So next time you take shelter under an awning on a sunny day, appreciate the design element and practical function it brings to the scene.
2) Trellis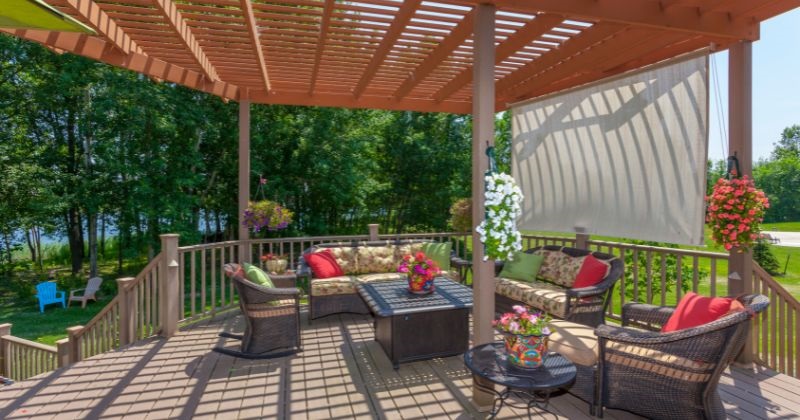 Trellises can serve a variety of purposes in the garden, from providing support for climbing plants to serving as an attractive backyard feature. Made from materials such as wood, metal, or plastic, trellises come in numerous shapes and sizes.
One option is the freestanding trellis, which can support heavy vines and add height and visual interest to a garden bed or pathway. Wall-mounted trellises, on the other hand, can be placed against a fence or house to create a living wall of greenery.
And for those with limited space, smaller trellises can provide support for containers and hanging planters. When choosing a trellis, make sure it is sturdy enough to handle the weight of your desired plants and fit into the overall design of your garden. With a little creativity and some careful plant selection, a trellis can enhance the beauty and functionality of any outdoor space.
3) Pergola
A pergola is a beautiful addition to any outdoor space. often made of wood or metal and featuring an open lattice roof, this garden structure provides shade and can support climbing plants for added beauty.
Not only does a pergola create a peaceful retreat in your backyard, it can also serve a practical purpose. Its overhead beams offer protection from the elements, making it the perfect spot for al fresco dining or lounging on warm summer days.
With so much versatility and elegance, it's no wonder pergolas have been used in gardens since ancient times. Whether serving as a centerpiece or simply adding an extra touch of flair, a pergola is sure to enhance the charm of any outdoor oasis.
4) Gazebo
The term gazebo conjures images of a quaint, outdoor structure perfect for sitting and watching the world go by. These charming additions to any backyard can also serve as a focal point for gatherings and parties.
However, there are many different styles and materials to choose from when purchasing a gazebo. Wooden gazebos offer a traditional look, while metal and plastic options can be more durable and low maintenance.
Additionally, some gazebos are freestanding while others may need to be attached to an existing structure, such as a deck or patio. No matter what style you choose, a gazebo is sure to enhance your outdoor space and provide a pleasant spot for relaxation and entertainment.
5) Shed Roof
When deciding on a roof for your shed, one option to consider is a metal roof. Metal roofs can last for decades with minimal maintenance and are resistant to extreme weather conditions such as hail and high winds. Another advantage of a metal roof is its ability to reflect sunlight, helping to keep your shed cool during the hot summer months.
In addition, metal roofs come in a wide range of colors and styles, allowing you to find the perfect match for your shed's design. Overall, a metal roof is a durable and stylish choice for your shed.
6) Covered Deck
When designing your outdoor living space, consider the benefits of a covered deck. Not only will it provide shade and protection from inclement weather, but it can also greatly extend the usable life of your deck.
A covered deck allows you to enjoy the outdoors without worrying about UV rays or a sudden rainstorm interrupting your plans. It can also serve as an extra room for entertaining or relaxing, with the added bonus of allowing you to use it year-round.
Plus, with a wide variety of materials and designs available, a covered deck can add unique style and charm to your home's exterior. So before tossing another coat of sealant on that traditional uncovered deck, consider exploring the potential benefits of adding a cover. Your outdoor living space will thank you.
7) Use a Tarp or Drop Cloth
One of the quickest and cheapest ways to create a makeshift patio cover is by draping a tarp or drop cloth over some ropes or bungee cords. This method is ideal for smaller patios or if you only need temporary protection from the sun or rain. Tarps and drop cloths can be found at most hardware stores for around $20-$30.
8) Install PVC Pipe Frames
If you're looking for something a little more substantial than a tarp, you can build your own PVC pipe frame and then drape it with fabric or canvas. This option will provide more shade and protection than a tarp alone, but it's still relatively inexpensive and easy to construct. You can find PVC pipes at most hardware stores for around $1-$2 per foot.
9) Repurpose an Old Umbrella
Do you have an old patio umbrella that's seen better days? If so, you can repurpose it into a unique and stylish patio cover! Just remove the fabric canopy from the umbrella frame and then drape it with fabric or canvas. Voila—instant patio shade!
10) Plant Lattice Panels
If you have some lattice panels lying around (or if you can pick some up cheaply at a garage sale), you can use them to create a shady oasis on your patio. Just attach the panels to your fence or house and then plant climbing vines or flowers at the base. The vines will eventually grow up and over the lattice, creating a beautiful and natural shadescape.
11) Hang Curtains
Hanging curtains is another quick and easy way to add some shading to your outdoor space. Just install some hooks or rods on your fence or house, drape with curtains, and voila—instant patio privacy! This method also provides the added bonus of making your patio feel like an extension of your indoor living space.
12) Build a Wood Pallet Pavilion
For a rustic yet chic look, consider building your own wood pallet pavilion! This project does require some basic carpentry skills, but it's still relatively simple and inexpensive to do. You can find wood pallets at most hardware stores or online for around $10-$20 each.
13) Grow Shade Trees
One of the best (and cheapest!) ways to add long-term shade to your patio is by planting trees! If you choose fast-growing varieties, you could have shade in as little as 2-3 years. Just make sure to plant them far enough away from your house so that their roots don't damage your foundation (generally speaking, 20 feet is a safe distance).
Longest Lasting Patio Cover Material
When it comes to choosing an outdoor patio cover, the material is a crucial factor to consider. One of the most durable patio cover materials that provide long-lasting protection is aluminum. This robust material can withstand extreme weather conditions like snowfall, heavy rains and strong winds, unlike wood or plastic patio covers. Another significant advantage of aluminum is its low maintenance needs.
It doesn't rot, warp or rust, and cleaning only needs soap and water. This feature means that aluminum patio covers last longer without the daily maintenance that other covers may require. With its durability, low maintenance, and sleek design, aluminum patio covers offer a long-lasting solution for homeowners who want to add elegant outdoor living space to their homes. So I definitely choose aluminum for the longest lasting material!
Lowest Maintenance Patio
Are you tired of high-maintenance patios? Look no further! A low maintenance patio can be the perfect solution for those who want to enjoy outdoor living without constant upkeep. By incorporating materials like concrete, pavers, or composite decking, you can create a visually appealing patio that requires minimal maintenance.
Adding low-maintenance plants such as succulents or shrubs can also help keep upkeep to a minimum. With a low maintenance patio, you'll have more time to relax and enjoy your outdoor space without worrying about constantly cleaning or repairing. Say goodbye to the hassle and hello to a beautiful, stress-free outdoor oasis. I find it to be that easy!
Additional Resources
If you are looking for more tutorials, walkthroughs and troubleshooting on patio ideas, here are some additional posts about patio furniture:
FAQ's About Cheap Patio Cover Ideas
How do you temporarily cover a patio?
When it comes to protecting your outdoor space from the elements, options like awnings and permanent roofing can be costly and time-consuming. But fear not, there are plenty of temporary solutions that won't break the bank. One option is to use a waterproof tarp or sheet to cover the entire patio. Make sure to secure the tarp properly with heavy-duty ropes or stakes to prevent it from blowing away in strong winds.
How do I cover my patio on a budget?
Are you in search of a way to enjoy your outdoor space without breaking the bank? Look no further! While investing in a professional-grade patio cover can be expensive, there are plenty of budget-friendly options available. Temporary pop-up canopies and tarpaulins can provide shade and shelter at a fraction of the cost. However, if you want a more permanent solution, consider creating your own DIY patio cover using materials such as wooden pallets or bamboo poles.
What is the cheapest material for patio cover?
When it comes to covering your patio, finding an affordable option can save you plenty of money without compromising on functionality. The cheapest material for a patio cover would be vinyl. It provides decent protection from the elements without denting your wallet too much.
What type of patio cover is best?
One option is a solid roof cover, which provides complete protection from the elements and is great for keeping out the rain and snow. Another popular choice is a pergola-style cover, which features open beams and provides partial shade with a more airy feel. And for those who want the best of both worlds, a hybrid cover combines the features of both solid and open covers.
My 13 Cheap Patio Cover Ideas – My Conclusion
My 13 cheap patio cover ideas have hopefully inspired you to create a beautiful outdoor area that will last through all seasons. With a bit of creativity, any patio can become the perfect spot to relax and spend time with your family and friends. Whether you pick a pergola design, wooden planks, fabric panels or umbrella options, there is something special and unique about every choice, which will make your patio even more delightful. Nothing like relaxing in your own backyard 🙂
While it might take some time and effort to install, I feel that the result will be worth it; you'll soon find yourself needing an extra chair at the dining table. Patio covers bring color and life to our homes; what better way to spruce up your home? So get creative and start making plans for your dream terrace today. Don't forget, if you have any comments or questions please leave them below – I'd be happy to help in any way I can. Thank you again for taking the time to read this blog post – I hope it has brightened up your day!