The Equinox is the smaller version of the Pantheon Seatcraft recliner, but can still support up to 350-pounds of weight. It appears to be a bit more like what you might imagine a home theater recliner looking like. There are many awesome features and benefits of the Equinox chair. We will provide all the details for you in our Seatcraft Equinox Home Theater Seating Recliners Review. This is one excellent recliner chair!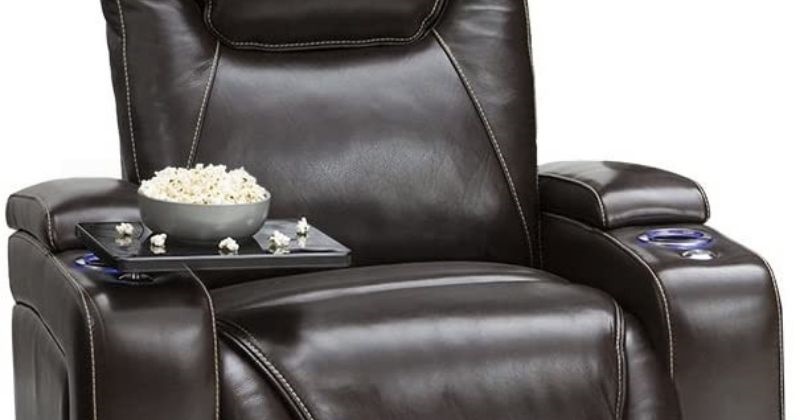 Seatcraft Equinox Home Theater Seating Specs
| | |
| --- | --- |
| Dimensions: | 40″D x 38″W x 43″H |
| Item Weight: | 174 lbs. |
| Material: | Leather |
| Price: | $$$ (Check the latest price) |
| Our rating: | 9.6/10 |
Overview of the Seatcraft Equinox Home Theater Seating
Seatcraft is a company that specializes in home theater seating. The Seatcraft Equinox is one of their most popular models. It features a comfortable, ergonomic design and comes in a variety of colors and fabrics to match any décor. The Seatcraft Equinox also has a number of features that set it apart from other home theater seating options on the market.
For example, it has a built-in recliner mechanism that allows you to kick back and relax during movie night. It also has cupholders and storage compartments, so you can keep snacks and drinks close at hand. Best of all, the Seatcraft Equinox comes with a lifetime warranty, so you can be sure it will provide years of comfort and enjoyment.
Seatcraft Equinox Home Theater Seating Features
When it comes to home theater seating, there's a lot to love about Seatcraft Equinox. For starters, the seats are extremely comfortable, with high-density foam cushions and contoured headrests. The seats also recline fully, so you can kick back and relax during your favorite movie.
But what really sets Seatcraft Equinox apart is its unique features. For example, the built-in cup holders and storage compartments are perfect for holding snacks and drinks. And the LED lighting ensures that you'll always find your way back to your seat in the dark. So if you're looking for a top-of-the-line home theater seating option, Seatcraft Equinox is definitely worth considering.
About the Seatcraft Brand
The Seatcraft story begins in 1978, when a small manufacturer of automotive seating began to expand its reach into the world of home theater. The company had already built up an impressive reputation within industry for creating high-quality products that were both durable and stylish over time; it would continue this success with even greater innovation as they moved forward into new markets like mini theaters or sofas tailored specifically towards gamers who wanted more room than what was offered by mainstream designs.
Benefits and Drawbacks of The Seatcraft Equinox Home Theater Seating
Here are the benefits and drawbacks of the Seatcraft Equinox Home Theater Seating:
Benefits :
Workmanship is above average.
The leather is top quality.
The chair is easy to set up.
Drawbacks:
Chair is heavy.
LED lights are rather bright.
Soundshaker is on the weak side.
Verified Purchase Reviews from Amazon
Here are some verified purchase reviews from Amazon about the Seatcraft Equinox Home Theater Seating Recliners:
Seatcraft Equinox Home Theater Seating Recliners Comparison Chart
Here is a chart that compares the other Seatcraft Home Theater Recliners:
Final Verdict
There's nothing like relaxing in your home theater seating recliner. And why not the Seatcraft Equinox? It has all the essentials that you need at an affordable price. The power lumbar support and Shaker Technology are second to none. How nice would this look and feel in your living room or den? You now have enough information to make an educated decision as to if this awesome theater recliner is for you.
In Conclusion
Seatcraft makes an awesome array of recliners and the Equinox provides many benefits for a relaxing time for you. As you've read, there are many positive benefits from verified satisfied customers and you can become one too!
Please leave any comments below. Thank you!