What is the best outdoor patio furniture? In this article you'll learn what to consider when choosing patio furniture. As the weather warms up, you might be looking for ways to make your outdoor living space more inviting and a great place to relax. One way to create a comfortable and relaxing area is by investing in quality outdoor patio furniture. Whether it's an intimate gathering with close friends or family summer barbecues, having the right furniture can help enhance your time outdoors.
But with so many options available, it can be overwhelming trying to figure out what's best for your particular needs. I've got you covered; breaking down everything from materials and construction choices upholstery fabrics and trends that will help guide you towards the perfect solution for an inviting backyard paradise!
Additionally, make sure that your furniture matches its intended purpose (e.g. outdoor dining). Consider purchasing pieces such as an outdoor sofa set or armchairs with weather-resistant cushions to provide comfortable seating or an extendable table to maximize space while still accommodating guests.
When shopping for the right pieces, don't forget to look into durability too; wicker might be aesthetically pleasing but it won't last long in harsh weather conditions compared to aluminum or plastic. Above all else, remember that patio furniture should bring joy and accommodate your needs throughout the seasons without abandoning style or comfort.
Therefore choose wisely! With so many options on the market, finding furniture that checks every box isn't difficult – it just requires some extra thought and research! The perfect combination of items will elevate your patio from a place of relaxation into a stylish outdoor living area — one that you'll share many memories in for years to come. Start looking for patio furniture today!
Different Types of Patio Furniture
When it comes to furnishing a patio, there are so many options to choose from that you may feel overwhelmed. Upholstered furniture pieces, such as lounge chairs and couches, can be a comfortable and cozy addition to your patio. These types of furniture come with removable cushions filled with foam or other materials that provide cushioning while sitting or lounging.
You'll also want to consider non-upholstered patio furniture like steamer chairs, rocking chairs, Adirondack chairs, bar stools and dining tables in order to accommodate larger groups of people who want to enjoy the beauty your outdoor space has to offer. Additionally, you can purchase armchairs, wicker furniture sets and sun loungers for a more relaxed setting.
No matter what type you choose, make sure it has protective qualities against the weather so that it'll last longer outdoors. With all the possibilities available in today's market, no matter what your needs are; you're sure to find suitable patio furniture for your outdoor space.
How to Care for your Patio Furniture
Caring for your patio furniture is essential for keeping it in great shape. With the right care, your outdoor furniture can look as good as new for seasons to come. Careful cleaning is the most important step: weekly sweeping with a soft brush is all that's need to keep dirt, dust, and other debris off of the furniture.
Washing down any metal pieces can help prevent rusting, and a scrub brush or cloth soaked in warm water should do the trick. Wood furniture needs more regular cleaning because dirt particles from the air can easily get caught in its crevices; use a damp cloth and some mild soap to wipe down wood every two weeks or so. It's also helpful to apply sealer each spring to protect against wear-and-tear and UV damage – this applies to both metal and wood patio furniture.
If you're dealing with cushions or covers, consider tossing them in the washing machine after a few weeks of use – just make sure they're washed on a gentle cycle with cool water. Outdoor furniture has its own unique needs; by following these steps, you'll be able to keep your patio looking perfect, season after season!
Benefits of Investing in Quality Patio Furniture
Investing in high-quality patio furniture can provide many benefits, beyond just a relaxing and inviting outdoor space. Good-quality patio furniture is often made to last, so you won't have to worry about constantly replacing your pieces every few years. High-end materials like teak wood are naturally resistant to weather-related damages such as fading, cracking and peeling.
Not only will this provide a more polished look, it will help your furniture last longer and require less maintenance. Additionally, most quality pieces offer cushions made with polyester material that is fade-resistant, quick-drying, and moisture repelling. This means there's no need to keep running in and out during rain storms trying to cover up the cushions!
Finally, quality patio furniture generally has multiple adjustability options for added comfort and convenience; You can easily switch between lounging on the couch or lying back in the lounge chair with a few simple adjustments. With all these advantages of investing in good patio furniture in mind, it's easy to see why it's worth spending a bit more upfront for a piece that will last for years–or even decades!–to come.
Tips on Decorating your Outdoor Space
A well-thought out outdoor space can bring joy to your home as much as a beautiful interior. With the right decorations, furniture and plants, it can become an extension of your living area. To make the best use of your outdoor space, there are a few things to consider when decorating.
Look for furniture that fits the scale and mood you're going for, and be sure that everything is durable and sturdy. As for décor, festive lanterns or strings of lights will create ambiance when lighting becomes necessary later in the evening. Adding decorative accents like pillows on chairs and plant pots can also help to liven up the atmosphere and draw eyes away from any flaws in the garden's design.
And don't forget plants! Strategically placed trees or bushes can lend shade, while flowers will draw out bees and birds – another two elements sure to enliven any outdoor space. With these tips in mind, you'll soon have a stylish and inviting area outside to enjoy with friends and family whenever you please!
When shopping for patio furniture, it is important to keep in mind the type of material that you want. There are many different materials available, each with their own benefits and drawbacks. Once you have decided on the material, consider the style of furniture that you want.
The most popular styles are contemporary and traditional. After you have chosen your furniture, be sure to care for it properly so that it will last for many years to come. Enjoy your new outdoor space!
Patio Furniture
Designing a summer patio can be a fun and enjoyable project that adds value and functionality to your home. There are a few key elements to consider when designing a summer patio.
First, consider the size and layout of your patio. Do you have a large, open space to work with, or are you limited to a small area? Depending on the size of your patio, you may want to incorporate different features such as a dining area, a seating area, or a barbecue area.
Next, think about the materials you will use for your patio. Concrete, brick, and stone are popular choices for patio surfaces, as they are durable and easy to maintain. You may also want to consider using wood or composite decking materials for a more natural look.
Once you have a sense of the size and materials you will use, you can start to think about the functional and decorative elements of your patio. This might include outdoor furniture, plants and flowers, lighting, and possibly even a fireplace or fire pit.
Overall, the key to designing a summer patio is to create a space that is functional, comfortable, and visually appealing. With a little planning and creativity, you can transform your outdoor space into a summer oasis that you and your family will enjoy for years to come.
Learn More About: Best Summer Patio Design Ideas
Cheap Patio Cover Ideas
Cheap patio covers are a cost-effective way to protect your outdoor living space from the elements. They can provide shade on hot summer days, shelter from rain and wind, and can even extend the use of your patio into the colder months. There are many options available for cheap patio covers, ranging from simple awnings to more complex structures like gazebos or pergolas.
One option for a cheap patio cover is a retractable awning. These can be installed on the side of your house or on a freestanding frame and can be easily extended or retracted as needed. Another option is a portable gazebo or pop-up canopy, which can be set up quickly and taken down just as easily. These are often made of lightweight materials like polyester or nylon and can be easily stored when not in use.
For a more permanent solution, you can consider building a pergola or using a prefabricated kit to create a more sturdy and attractive patio cover. No matter which option you choose, a cheap patio cover can be a great addition to your outdoor space and can help you enjoy it even more.
Here's More About: Cheap Patio Cover Ideas
Cleaning Patio Furniture Cushions
Cleaning patio furniture cushions is an important task to maintain the appearance and prolong the life of your outdoor furniture. There are a few steps you can follow to effectively clean your patio furniture cushions:
First, remove the cushions from the furniture and shake them off to remove any loose dirt or debris. Then, use a vacuum to remove any remaining dirt or debris from the surface of the cushions. If the cushions are particularly dirty, you may want to use a mild detergent or upholstery cleaner to spot treat any stains. Once you have cleaned the surface of the cushions, allow them to air dry completely before replacing them on the furniture.
If your patio furniture cushions are made of a water-resistant material, you can also hose them down and allow them to air dry. Just be sure to check the care instructions for your specific cushions to ensure that they can withstand being washed with water.
Overall, cleaning patio furniture cushions is a simple task that can help to keep your outdoor furniture looking fresh and inviting. By following these steps, you can enjoy your patio furniture for years to come.
Read More About: How to Clean Patio Furniture Cushions
Choosing the Best Patio Recliner Chairs
When choosing the best patio recliner chairs, there are several factors to consider. First, consider the size and layout of your patio. You want to make sure that the chairs you choose will fit comfortably in the space and won't obstruct any pathways or views.
Next, think about the material of the chairs. If you live in an area with extreme weather conditions, you may want to choose chairs made of materials that can withstand the elements, such as aluminum or wicker. If you want a more comfortable option, consider chairs made of cushioned materials like foam or outdoor fabric.
Another important factor to consider is the type of recline you want in your chairs. Some chairs offer full recline, while others only offer partial recline. Full recline can be more comfortable for lounging, but partial recline may be more practical for seating around a table or for use in a smaller space. Consider your needs and preferences when selecting the recline type.
Finally, think about the style of the chairs. Do you want a more traditional look, or do you prefer a modern design? There are plenty of options available to suit any taste. By considering these factors, you can find the best patio recliner chairs to suit your needs and style.
This May Also Interest You: How to Choose the Best Patio Recliner Chairs
Cleaning Wicker Patio Furniture
Cleaning wicker patio furniture can be a simple task if done regularly, but it can become more difficult if the furniture has not been cleaned in a while. To begin, remove any loose dirt or debris from the wicker using a soft-bristled brush or a vacuum with a soft brush attachment. Then, mix a solution of mild soap and warm water, and use a soft cloth or sponge to gently scrub the wicker.
Be sure to rinse the furniture thoroughly with clean water to remove any soap residue, and allow it to air dry completely before using it again. If the wicker is especially dirty or has stains, you may need to use a stronger cleaning solution or spot treat the affected areas. It is important to avoid using harsh chemicals or abrasive scrubbers on wicker, as these can damage the material and cause it to become brittle over time.
Read More About: How to Clean Wicker Patio Furniture
Sale on Patio Furniture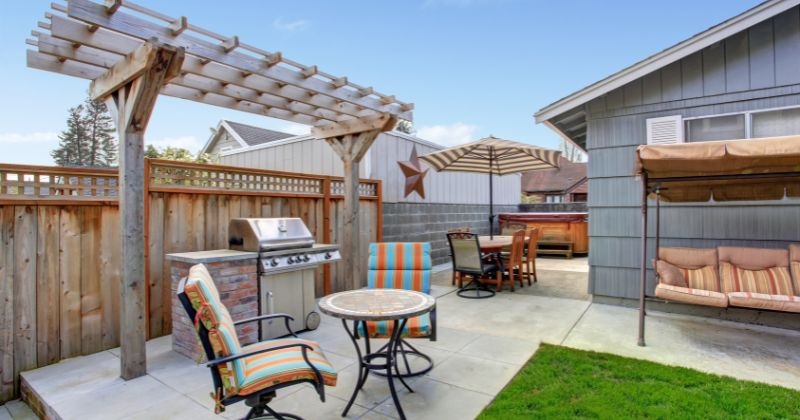 Patio furniture typically goes on sale during the spring and summer months, as these are the prime seasons for outdoor entertaining and relaxation. Many retailers offer discounts on patio furniture during this time to encourage consumers to update their outdoor spaces for the warm weather. Additionally, patio furniture is often discounted during clearance events and end-of-season sales.
Some retailers may also offer promotions and discounts around holidays, such as Memorial Day, Independence Day, and Labor Day, which are popular times for outdoor gatherings. It is worth noting that the specific timing of patio furniture sales may vary by retailer and location, so it is a good idea to keep an eye out for deals and promotions at your preferred stores.
For More Sales Info: When Does Patio Furniture Go On Sale?
Why Choose Coastal Sofas for Your Beach Home
Coastal sofas are a great addition to any beach home. They are designed to be comfortable, durable, and able to withstand the elements. These sofas are often made from materials such as wicker, rattan, or teak, which are all resistant to the saltwater and humidity that are commonly found near the beach. Coastal sofas also tend to have a casual and laid-back aesthetic, which is perfect for creating a relaxed and inviting atmosphere in a beach home.
In addition to being functional and stylish, coastal sofas are also practical for beach homes. They are typically lightweight and easy to move, which is convenient if you need to rearrange your furniture or bring it inside during a storm. Many coastal sofas also have removable cushions or slipcovers, which makes them easy to clean and maintain. So if you want to add some comfortable and stylish seating to your beach home, consider investing in a coastal sofa.
Here's More About: Coastal Sofas for Your Beach Home
Outdoor Chairs for Your Backyard
Outdoor chairs are an essential piece of furniture for any backyard or patio. They provide a comfortable place to sit and relax while enjoying the fresh air and natural surroundings. There are many different styles of outdoor chairs to choose from, ranging from traditional wooden Adirondack chairs to modern, sleek plastic chairs.
When selecting outdoor chairs for your backyard, consider the size of your space and the overall design aesthetic you want to achieve. If you have a large backyard with plenty of room for seating, you might consider a set of matching chairs or a seating group. For smaller spaces, a single chair or a bistro set may be more suitable.
It's also important to think about the materials of the chairs. Wood and metal chairs are durable and classic, while plastic and resin chairs are lightweight and easy to maintain. Whatever your style and needs, there is sure to be an outdoor chair that is perfect for your backyard.
You May Also be Interested in: 7 Types of Outdoor Chairs For Your Backyard
Chaise Lounge Recliners
A chaise lounge recliner is a type of furniture that combines the features of a chaise lounge with those of a recliner. A chaise lounge is a long, upholstered couch with a backrest that is angled to allow a person to rest in a partially reclined position. A recliner is a type of chair that can be adjusted to allow the user to sit in a variety of positions, including fully reclined. A chaise lounge recliner combines the comfort and relaxation of a chaise lounge with the versatility and adjustability of a recliner.
Chaise lounge recliners are often used in living rooms, bedrooms, and home theaters as a comfortable and stylish seating option. They can be placed against a wall or used as a standalone piece of furniture. Many chaise lounge recliners come with additional features such as built-in massagers, cup holders, and storage compartments, making them a convenient choice for relaxation and entertainment.
Some chaise lounge recliners are designed to be used outdoors, making them a great choice for patios, decks, and poolside areas. Overall, chaise lounge recliners are a comfortable and stylish addition to any home.
Here's More About Chaise Loungers: Top 3 Chaise Lounge Recliners
Decorating Your Small Patio
Decorating a small patio can be a fun and rewarding task. There are a few key considerations to keep in mind when designing a small patio.
First, choose furniture that is appropriate for the space. This might mean opting for smaller pieces or using multifunctional furniture that can be easily moved around.
Second, use vertical elements, such as wall-mounted planters or hanging baskets, to add depth and interest to the space.
Finally, consider adding pops of color through accessories such as throw pillows, rugs, or outdoor art to create a cohesive and inviting atmosphere. With a little creativity and careful planning, a small patio can be transformed into a cozy and functional outdoor space.
Learn More About: Small Patio Décor Ideas
Bohemian Style Patio
A Bohemian style patio is a space that exudes a relaxed, laid-back atmosphere and is decorated with colorful, eclectic, and often handmade or vintage pieces. This type of patio is perfect for those who love to mix and match different styles and textures, and who enjoy creating a unique and personalized outdoor space.
To achieve the Bohemian look, you can add plenty of plants and flowers, as well as colorful cushions, rugs, and lanterns. You can also incorporate some rustic or antique pieces, such as a wooden bench or a vintage metal chair. A Bohemian patio is a great place to relax and entertain friends and family, and it can be the perfect spot to enjoy a sunny day or a warm summer evening.
Read More About: Bohemian Style Patio
Inflatable Hot Tubs
Inflatable hot tubs are a convenient and cost-effective way to add a luxurious touch to your patio. They are easy to set up and can be quickly filled with water and heated to your desired temperature. Inflatable hot tubs are also portable, so you can take them with you on vacations or move them to a new location if needed.
They are a great way to relax and unwind after a long day, and can even provide therapeutic benefits for sore muscles and joints. Many inflatable hot tubs come with built-in jets for added massage and relaxation. Just be sure to follow the manufacturer's instructions for proper maintenance and care to ensure the longevity of your hot tub.
Additional Information About: Top Rated Inflatable Hot Tubs
FAQs About the Best Outdoor Furniture
What is the first thing you should consider when selecting patio furniture?
When selecting patio furniture, the first thing you should consider is the intended use of the furniture. Consider how you will be using the patio and the furniture, and choose pieces that are suitable for those activities. For example, if you want to use the patio for entertaining and hosting large gatherings, you may want to choose a dining table and chairs or a seating area with comfortable, plush cushions.
What is the most durable outdoor furniture made of?
For outdoor furniture that stands the test of time, investing in furniture made from durable materials such as rattan, wicker, teak or cypress is a great choice. Rattan is a lightweight material that is resistant to water and moisture. Its natural fibres give it strength and flexibility properties for outdoor use and it can be painted or stained to match outdoor décor.
Wicker furniture is another classic material for outdoor furniture that looks stylish and provides extra comfort without compromising on durability. For a more rustic look, teak has long been used as a classic outdoor material due to its natural beauty, water resistance and high levels of durability. Lastly, cypress furniture is made using naturally rot-resistant wood making it perfect for any season outdoors.
What is the easiest patio furniture to keep clean?
Outdoor patio furniture is a great way to spruce up a garden, but keeping it clean can sometimes be a hassle. Fortunately, there are some types of patio furniture that are much easier to keep clean than others. Rattan furniture is one option that requires minimal maintenance; it's extremely durable, as well as weather-resistant, so it won't require frequent treatments with harsh chemicals or tedious scrubbing. Plastic chairs and tables are another easy-breezy choice for patio furniture; they are light and easy to move around, which makes the cleanup process quick and efficient.
Best Outdoor Furniture: My Conclusion
In conclusion, the best outdoor furniture for your needs will depend on a variety of factors such as your personal style, budget, and the type of outdoor space you have. Some of the most popular materials for outdoor furniture include wood, metal, plastic, and wicker. Each material has its own unique benefits and drawbacks, so it's important to consider your needs and preferences before making a decision.
Ultimately, the best outdoor furniture for you will be durable, comfortable, and able to withstand the elements while also complementing the overall look and feel of your outdoor space. Please leave any comments below. Thanks for reading!