Are you in search of the perfect gaming bean bag chair to make your recreation room or living space look and feel complete? If so, you're in luck! I've put together a review of the three best gaming bean bag chairs for adults on Amazon. In this article, I take an in-depth look at the unique features and benefits of each product, helping you find which one will suit your lifestyle and budget the most. Whether it's comfort, design options or price that matters most to you—I'll go over everything so that you can end up with the ideal gaming bean bag chair for your collection. I will also give you my top choice from my experience!
Reasons to own a Gaming Bean Bag Chair
Most models have a flexible memory foam or beanbag-filled interior that molds to the body and provides optimal support while gaming. Some even have built-in features like Bluetooth sound systems, wireless chargers, and surround sound speakers for immersive gameplay.
Many also come with ergonomic designs for improved comfort when sitting for long periods – perfect for those dedicated marathon sessions! Aesthetically, gaming bean bags usually feature stylish exterior fabric pieces like faux fur or corduroy that look great in any space.
With so many options available on the market these days, gamers can easily find an ideal match that suits their unique needs and preferences. No matter your style, gaming bean bag chairs provide unbeatable comfort and top-notch design options to ensure maximum enjoyment each time you settle down to play.
How do you use a gaming bean bag chair for gaming purposes, and why would you want to do that instead of using a regular chair or couch? Gaming bean bag chairs are an ideal seating option for playing video games.
Unlike traditional couches and chairs, they are designed to contour your body, providing support without restricting movement or range of motion – perfect for when you need to turn quickly while playing a racing game or execute that tricky combo in fighting games.
Bean bags also have a low set-up cost with no assembly required, making it easier to rearrange the furniture in your gaming space. And with no arms to impede movement, you can sit more naturally, reducing fatigue caused by awkward angles often encountered with regular chairs and couches.
Finally, the flexibility of the material provides ample cushioning for long gaming sessions, making them much more comfortable than traditional seats. With all these benefits combined, it's easy to see why so many gamers prefer bean bag chairs for their gaming needs.
What to Search for when Buying a Gaming Bean Bag Chair
Comfort
Are gaming bean bag chairs comfortable, and how long can you sit in them without getting uncomfortable or feeling cramped up? In recent years, gaming bean bag chairs have become increasingly popular for both gamers and non-gamers. These comfortable chairs are great for lounging or watching a movie, but they also offer ideal support for gaming sessions stretched over hour-long intervals or longer.
But, how comfortable are these chairs and how long can you sit in them without getting uncomfortable? The answer depends on the type of chair. Higher-end models feature thick cushioned liners filled with soft beads that provide plenty of support while conforming to the shape of your body, allowing you to sit comfortably for hours at a time. Cheaper models may not be as plush or supportive, so it is important to read reviews before making a purchase.
If properly maintained and professionally cleaned every couple of months, a good gaming bean bag chair can keep you comfy even after long nights parked in front of your console or computer screen. The bottom line is that with the right chair and regular maintenance, there's no need to worry about being cooped up in an uncomfortable position!
This May Also be of Interest: Where to Buy Bean Bag Chairs
Sizes
Do they come in different sizes, and if so, which size is the best for someone who wants to use it for gaming purposes specifically (or any other purpose)? When buying a new mouse, getting the right size can make all the difference.
Different sizes are available on the market to ensure everyone can find one that not only fits comfortably in their hand but also provides accuracy and precision.
For gaming purposes, a size that is large enough to offer ease of movement but still small enough to allow for fast actions is recommended. Additionally, many gaming mice offer precise tracking technology and additional features tailored for gaming. For instance, extra programmable side buttons can be used for shortcuts or macros during games. In cases where speed is essential during gameplay, a lightweight option should be chosen as it will be easier to lift and maneuver often.
Ultimately it is up to the preference of the individual if they want a mouse with more functionality or higher endurance. When looking at different sizes of mice, gamers should keep in mind the intended use, preferred shape and size of the mouse, and how much money they want to spend. By accessing these factors, choosing the right mouse size becomes an easy decision. ​​​​​​​
Built-In Speakers & Features
Can you purchase gaming bean bag chairs with built-in speakers and other features that make them more conducive to gaming (or any other activity)?
If you love playing video games, you may have thought about buying a gaming bean bag chair. But with all the choices out there, it can be difficult to pinpoint exactly what type of chair to get.
Fortunately, there are gaming bean bag chairs that feature unique features that make them perfect for gaming and other activities. Many of these chairs come with built-in speakers so you can plug in your console or computer and play without extra hardware. If you want something more specialized, look for chairs with specialized features designed to help you game more effectively.
Features like adjustable back support, soft armrests for long sessions, and cushioning for better ergonomics can make all the difference in your gaming experience. And if you're tired of playing games, the same chair can double up as a comfortable spot to relax or watch TV – no doubt making it worth the investment. Whatever activity you prefer to do, there's likely a gaming bean bag chair out there that's perfect for that purpose.
So don't settle for any old piece of furniture when it comes to getting something comfortable and suited for your hobbies; seek out a gaming bean bag chair with special features instead! With its comfy cushioning and helpful built-ins, I'm sure this style of chair will give you just the right mix of comfort and performance you need.
Best Gaming Bean Bag Chairs for Adults (Updated)
| | | | |
| --- | --- | --- | --- |
| # | Preview | Product | Rating |
| 1 | | Throne Boss Gaming Bean Bag Chair for Adults | Best overall |
| 2 | | Big Joe Warp Black Spandex & Smartmax, Navy/Blue | Comfortable back cushioning & versatile design |
| 3 | | Gouchee Home Beadbox Gaming Bean Bag Chair Green | Features multi-level adjustable fill that provides just the right density and ergonomic shape |
1) Throne Boss Gaming Bean Bag Chair for Adults
From hardcore gaming to watching your favorite show, the Throne Boss Gaming Bean Bag Chair for Adults is an essential furniture piece for every home. Crafted with a strong outer shell and filled with lightweight and durable polystyrene beads, this bean bag chair offers exceptional comfort during long hours in front of your computer or television.
With its ergonomic design providing not only ample lumbar support but also allowing for some gentle rocking, you'll be able to enjoy yourself whether playing the latest open world game or just relaxing after a long day. For the ultimate comfort experience for both adults and young people alike, the Throne Boss Gaming Bean Bag Chair for Adults has it all.
Benefits:
The Throne Boss Bean Bag Chair for Adults is a comfortable and convenient addition to any gaming setup. This chair offers three great benefits – comfort, portability, and innovation.
The bean bag filling provides superior lumbar support and evenly distributes weight for maximum comfort.
It's designed to be light and durable, so it can be easily moved around without losing its shape.
And the chair's built-in Bluetooth speaker adds a creative gaming experience; you'll never have to worry about wearing headphones again!
With the Throne Boss Gaming Bean Bag Chair for Adults, you're sure to find the perfect way to enjoy your gaming time.
Drawbacks:
For those looking to find comfort in their gaming chair, the Throne Boss Gaming Bean Bag Chair for Adults may seem like an ideal option. Unfortunately, there are a few drawbacks worth noting:
First, this chair comes at a steep price tag – one that might be out-of-reach for some gamers.
Second, the size of the bean bag is quite limiting compared to more traditional gaming chairs; depending on your size and body type you may find yourself needing a larger seat for maximum comfort and support.
>>>Visit the Throne Boss Store<<<
The Big Joe Warp Black Spandex & Smartmax Bean Bag Chair is the perfect blend of comfort and style. If you're looking for something both sleek and comfortable, then this is a great choice. Constructed with spandex stretch material that is stylish, but also strong and durable, the bean bag is capable of holding up against everyday use. Its convenient Smartmax fabric can easily be spot-cleaned, making it easy to keep tidy and looking sharp.
With its comfortable back cushioning and versatile design, this chair easily moves from a casual conversation corner to an ideal reading nook in no time. Whether you want something laid-back or dynamic, Big Joe Warp Black Spandex & Smartmax Bean Bag Chair will help make your living space more inviting.
Benefits:
The Big Joe Warp Black Spandex & SmartMax Bean Bag Chair is a great choice for anyone looking for a comfortable seating solution. This bean bag chair offers several benefits, including its smart design and superior construction quality.
For one, the lounger seat is filled with proprietary UltimaX Beans that adjust to the user's shape for maximum comfort and support. The double stitched zipper ensures added durability as well as safe holding of the foam-like material inside.
Additionally, this bean bag chair comes in an array of colors so users can choose their favorite style.
Finally, it features a pocket along the side which allows users to keep small items within easy reach.
With all these benefits combined, it's no wonder why so many people love the Big Joe Warp Black Spandex & SmartMax Bean Bag Chair!
Drawbacks:
Firstly, it may not last as long as expected due to its tendency to lose shape quickly when sat on for prolonged periods of time.
Secondly, it does not come with the option to recline the back for additional comfort or support in times when you need to read or rest your neck and shoulder muscles.
3) Gouchee Home Beadbox Gaming Bean Bag Chair Green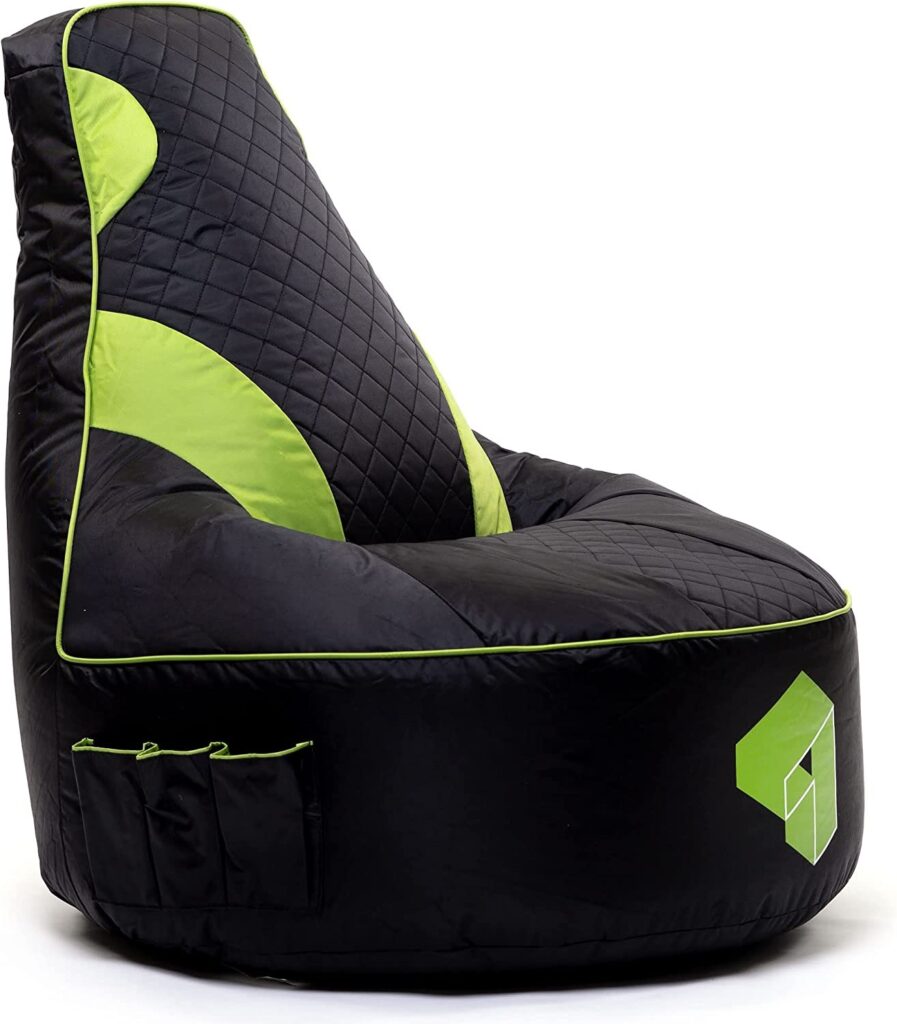 For the ultimate in comfort and gaming experience, the Gouchee Home Beadbox Gaming Bean Bag Chair is a must-have. With its specially designed bean bag construction, this chair distributes your weight evenly for a comfortable fit and feel. The strong support ensures you can sit for hours without experiencing any back or neck pains. Despite its softness and comfort, this highly durable chair will last you for years to come.
Plus, you don't have to worry about maintenance as the material is easy to clean with a damp cloth and resists stains and dirt quite well. if you're looking to make your gaming setup even more awesome, then this fantastic bean bag chair is an excellent choice!
Benefits:
The Gouchee Home Beadbox Gaming Bean Bag Chair is the perfect addition to any gaming setup:
This chair combines ultra-plush comfort with a sleek, modern design. It features multi-level adjustable fill that provides just the right density and ergonomic shape so gamers can stay comfortable over hours of play.
The convenience factor of this bean bag chair is off the charts – it comes fully assembled and is easy to move from room to room for wherever you want to set up your gaming station.
Additionally, its removable and washable casing makes cleanups a breeze, ensuring your chair will always look like new!
These incredible benefits make the Gouchee Home Beadbox Gaming Bean Bag Chair an ideal way to game in style and comfort.
Drawbacks:
The Gouchee Home Beadbox Gaming Bean Bag Chair has been widely praised for its comfort and striking design, however, it also has a few drawbacks worth noting:
Firstly, the chair takes quite some time to set up; not only does it require multiple steps in assembly but it also takes some effort to get the beads properly distributed inside for maximum comfort.
Secondly, it can feel quite warm when used for extended periods of time which might be uncomfortable during the summer months.
Despite its shortcomings, the chair still stands out from others on the market in terms of looks, feel and quality.
>>>Visit the Gouchee Home Store<<<
Are bean bag chairs good for gaming?
One of the most popular furnishings for gaming rooms is the bean bag chair. These comfy chairs come in a variety of shapes, sizes, and colors and are often filled with foam micro-beads that cushion and support your body as you play. In addition to being comfortable, bean bag chairs have a few other advantages that make them ideal for gamers.
First, they're lightweight and easy to move around – no heavy lifting required! Second, bean bags are often machine-washable, so you can keep your gaming space clean even after hours of playing. Finally, bean bags don't require any installation or setup; simply unzip the cover and let it fluff up before playing. From comfort to convenience to price, bean bag chairs make an excellent choice for anyone looking to upgrade their gaming experience.
Are gaming chairs supportive?
Gaming chairs are often built with lumbar support and adjustable armrests, reducing strain on your neck, back, and shoulders while also increasing comfort. Further features such as stability and swivel capabilities make it easier to move around while playing your favorite game. Moreover, certain models provide additional features like speakers or vibration functions for an immersive experience.
When it comes to finding a supportive chair for hours of gaming sessions, gamers may find gaming chairs best suited for their needs. Combined with some smart choices about how long you should play at a time without a break and following proper gaming ergonomics, having the right chair can enable longer stints of enjoying your favorite virtual pastime. Overall, gaming chairs offer great support for gamers who want to stay comfortable during their playtime.
Are gaming chairs good for long hours?
For those who engage in gaming for hours on end, the discomfort of sitting in an uncomfortable chair can easily become distracting. This is where gaming chairs come in; these specialized chairs are designed to be exceptionally comfortable and provide support during long gaming sessions. Their ergonomic design puts gamers in the correct postural position and helps reduce fatigue, with adjustable features such as seat height, armrests, and backrests that help prevent soreness or aching muscles.
So which is the best gaming bean bag chair for adults?
My top pick is the Throne Boss Gaming Bean Bag Chair for Adults because it is lightweight (so that it can be moved easily around), while offering ample lumbar support, but also allowing for some gentle rocking. I love this gaming bean bag chair!
In conclusion, gaming bean bag chairs are a comfortable and convenient way to game, offering many benefits over traditional chairs or couches. They come in different sizes and styles, with some even featuring built-in speakers or other gaming-centric features.
For one-on-one gaming or just relaxing in front of the TV, they can't be beat! Do you have any experience with gaming bean bag chairs? Let us know in the comments below. Thanks for reading!